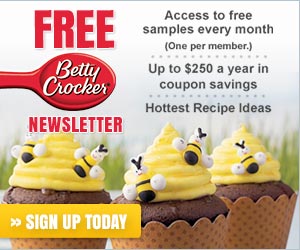 Just a reminder that you can click here to join Betty Crocker. Basically once a month they offer awesome freebies or free samples, but the catch is that you have to be a member before they offer it. I felt bad because a couple readers missed out on yesterday's freebies, so I just wanted to make sure you guys are signed up and no one misses out in the future.
Here's a couple freebies that they've offered in the last couple months
Free "Food Should Taste Good" chips
Free samples of Honey Nut Cheerios Medley Crunch
Free Fiber One bars + more
p.s Pillsbury and Box Tops do the same thing. You can click here to join Pillbury and click here to join Box Tops.
Image Credit: Pillsbury
<! end share this -->